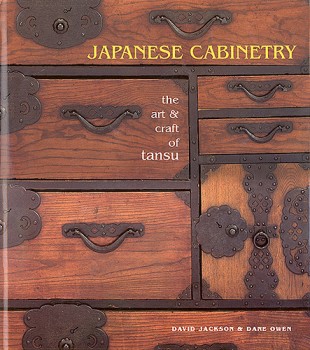 Japanese Cabinetry: The Art & Craft of Tansu
Out of Print

written by David Jackson and Dane Owen
First Edition published 2002, Gibbs Smith Publisher
256 pages, ISBN 1-58685-113-6
"The book is so well written and so richly illustrated that readers will forget how much they are learning when they delve into this book. At the same time, it is one they will treasure for its beauty as well as its contents. Explaining everyday life and its objects sounds simple but it is in fact very difficult, and few succeed. Jackson and Owen are among the few."
– Susan B. Hanley, University of Washington
Author, Everyday Things in Premodern Japan
David Jackson has been conserving and collecting tansu since 1990. He earned his bachelor's degree at the University of Maryland and completed graduate studies at the School of the Art Institute of Chicago in 1982, where he studied sculpture and woodworking.
Mr. Jackson developed a passion for Japanese woodwork while apprenticing with sculptor Martin Puryear. He curated a 1996 tansu exhibition sponsored by the Graham Foundation for the Advancement in the Fine Arts in Chicago, one of the first exhibitions in the United States to be devoted solely to tansu. He authored an article entitled "Tansu Exposed," which appeared in the June 1997 issue of Woodwork magazine.
Dane Owen founded Shibui, a gallery of Japanese antique furnishings, while pursuing his B.A. degree at St. John's College in Santa Fe, New Mexico. He was first introduced to the concept of shibui — "simple elegance" — while working as a goldsmith and jewelry designer. He named his gallery for this concept and strives to provide his clients with tansu and other objects that embody these ideals.
Mr. Owen is a frequent visitor to Japan, searching for objects for his customers and for his private collections. He was raised in the Los Angeles area.
Tansu are the realization of three craft traditions of eighteenth- and nineteenth-century Japan. Prior to industrialization, the joiner, blacksmith, and finisher created chests of select woods, hand-forged iron, and opaque and transparent lacquers. Each chest was handmade in every aspect of its production.
Just as these chests held items ranging from clothing to account books, they reflected the changing social conditions of the Edo and Meiji periods. By the early twentieth century, the heyday of tansu had largely passed and craftsmen's lives making handmade furnishings were profoundly changed forever by modernization.
The cabinetry of Japan is one of the least recorded aspects of Japan's fertile woodworking history. In concert with historical imagery and vintage photos, Japanese Cabinetry: The Art & Craft of Tansu answers the call for greater documentation, provides examples of merchant, household, and personal cabinetry never before seen, and illustrates essential details of craft. It is a reference for the craftsman and historian, a source for the interior designer, and a guide for the prospective buyer.