Modern living is of course, vastly different from life in old Japan, yet tansu are still useful today. Some tansu, such as clothing chests, are still excellent for storing pants and shirts. Other designs can be used for storage, or display. Tansu encompass function and beauty, yet some tansu when acquired need restoration.
In my restoration efforts I am conservative. I strive to keep original parts and replace only the damaged section of a larger structural member. My efforts have included gluing cracked boards, strengthening drawer guides and cabinet boxes. I have replaced missing doors. I have also re-nailed panels, installed fillets or dutchmen where holes exists, re-pegged drawers, replaced worn door tracks for sliding doors, and even replaced frame members damaged by shipping. I sometimes make my own iron hardware if a hinge is broken for example, but some hardware cannot be replaced due to age.
Tansu are made of wood, a material that – sometimes positively and sometimes not – reflects their journey from their Japanese origins to a present day western home. The patina of tansu is valued because it bears witness to this history. And it's a history I respect and want to conserve.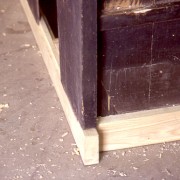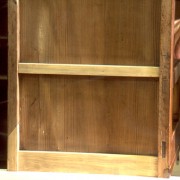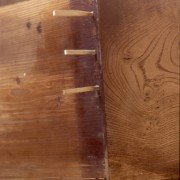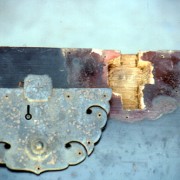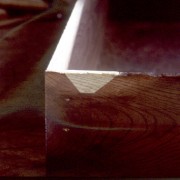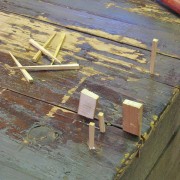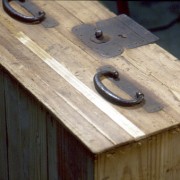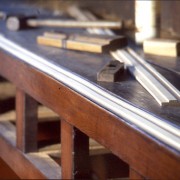 Wood Restoration
When structural damage — by insect or accident — occurs, the following woods are used to replace the species used in tansu:
Kiri – Can be replaced with Paulownia grown in the southeastern United States.
Hinoki and Sugi – Bald Cypress is the preferred replacement for these woods, as it is close to their medium density and it planes and finishes well.
Keyaki and Kuri – These can be replaced with white ash and red elm. I have also used Sassafras. Like keyaki and kuri, these woods are ring-porous and exhibit the open and decorative grain seen in many tansu drawer fronts.
I will also use maple for example in replacing door tracks as maple will wear longer and takes stain evenly so a matching finish can be achieved.
Finishes
Tansu finishes can be simple or complex: chalk and wax mixtures or coatings of wiped on lacquer.
Lacquer, while impervious to most chemicals, can be discolored by excessive heat and light. Care should be given to drastic temperature change as well, remembering that the lacquer is a coating on a substrate: the wooden carcase. These two materials depend on chemical bonds that can fail over time, causing the lacquer to flake off.
Lacquer constitutes not just a very caustic substance, but one where years of knowledge are required for using it. Restoration to lacquered surfaces will be limited to using pigments in a shellac base for touching up areas of damage. Coloring with alcohol-soluble dyes can also be effective in blending areas of wear.
Hardware Restoration
Often a tansu comes to me missing some of its hardware. It can be a handle, lockplate, backplate, or corner piece. I fashion some hardware from iron sheet. Handles which were primarily hand-forged, I replace with reproductions or forging. I am fortunate in living in an area where there are local blacksmiths whose talents I can call upon.
Care of hardware can include cleaning with steel wool or brass wire brushes, then waxing. Machine oil can help lubricate parts. Frozen locks (if keys are available) can be removed and cleaned, then oiled. I have also made locks dysfunctional. Lost keys are sometimes made.